This is a two-storey house, with a L-shaped floor plan, was built at the turn of the 18th and the 19th centuries. In the 1990s reconstruction was built the left yard wing, so since then the house has a U-shaped floor plan. On the 1745 map of Novi Sad there was a rectangular-shaped house, in its place.
The house had sustained extensive damage in the 1849 Uprising bombing, sharing the destiny of most buildings in the city center, and it was reconstructed in early 1850s. The house was owned by one of the wealthiest landowners in this part of Habsburg empire, Lazar Dundjerski. He bought it and reconstructed it in 1880s.
The house bears the features of the Neoclassical style, that were preserved through numerous reconstructions, except for the courtyard that was radically changed in 1990s reconstruction.
On this photo of Dunavska street taken during the Great flood od 1876, we can see that, apart from the new larger shop openings, the facade didn't change much since that time.
On this photo taken in 1907, we can see the facade much better. In a reconstruction after the Great flood of 1876, acroterions were added on the achitrave pediments of the three middle windows on the first floor.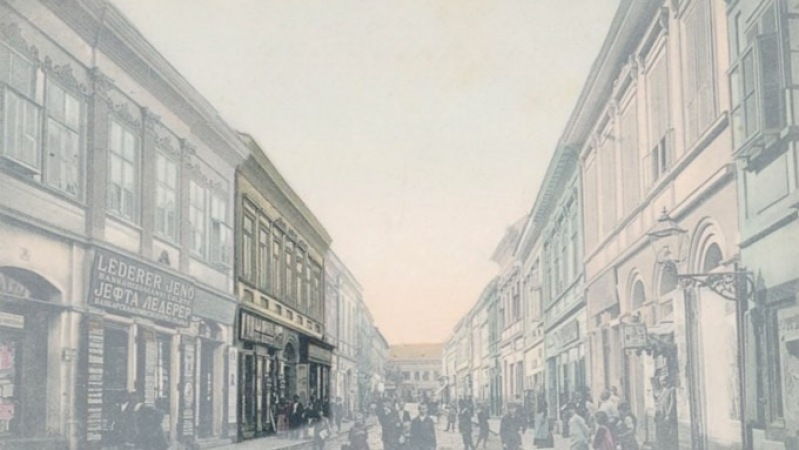 On this photo taken in 1950s, the facade hasn't significantly changed since 1907.
On this photo taken in 1992, we can see the façade of the house after the reconstruction in the early 1980s. The acroterions are removed from the middle three windows.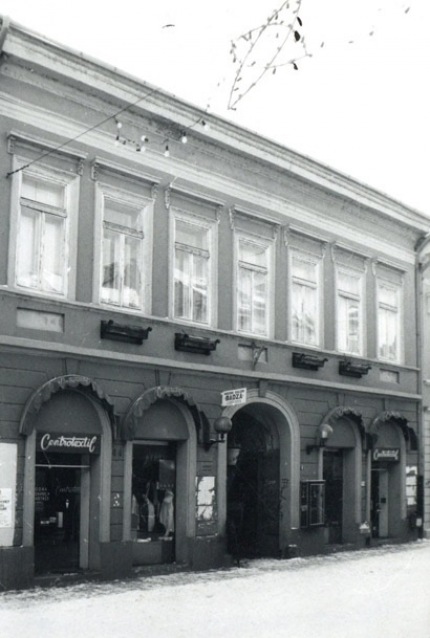 On this photo taken in 1992, we can see no significant changes.
All the rooms of the shops on the ground floor are under vaults, as well as the arched gateway for vehicals.
Present day look of the courtyard is a result of a radical reconstruction in 1990s. The ground floor rooms have been adapted to retail spaces, and the courtyard was paved with ceramic tiles.
The street wing of the house has a double-slope roof, while the long yard wings have a single-slope roof. The street wing is partly covered with crown tiles, while the rest of the house is covered with tin roof sheets.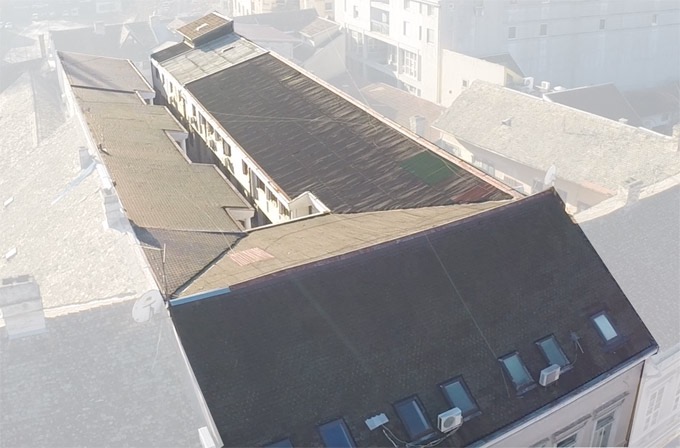 The realisation of this site was supported by the Administration for Culture of the City of Novi Sad

Sources and materials of the Institute for Protection of Cultural Monuments of the City of Novi Sad were used for this site
THE NOVI SAD OLD TOWN was declared a cultural property by the decision for determining spatial cultural-historical unit – 05 No 633-151/2008 of 17th January 2008, "Official Gazette of Republic of Serbia" No 07/2008.