This one-story house was built in 1852, in the style of late classicism. The house was built by mason Laurencius Fajthner for the owner Anton Novaković.
With the reconstruction carried out in the 90s of the 20th century, the ground-floor openings of the premises were converted into one large opening.
The base of the house is in the shape of the Cyrillic letter Г , with a vehicular entrance on the right and a courtyard wing on the left, and the entrance to the residential part of the house is from the courtyard.
On the ground floor, today there is one large opening on the facade of the shop on the left side, and on the right is the vehicular entrance with a stretched semicircular vault, without facade plastic.
On the first floor of the facade, we see four symmetrically placed double-hung windows above which are pediments on consoles, and the far right one is the "Kibic-fenster".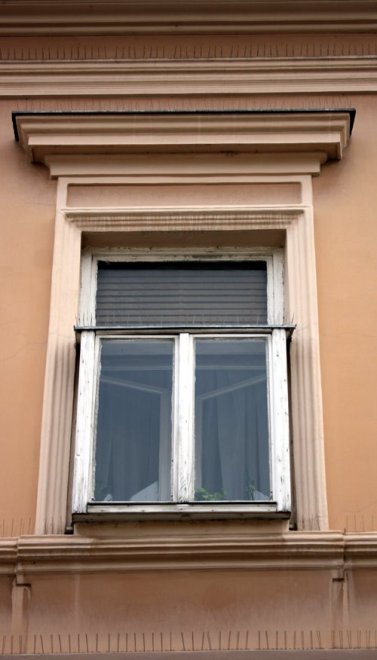 The ground floor rooms and the basement from the courtyard part of the house, which descend below the street part, are semicircular vaulted.
The balcony that connects the rooms on the first floor dominates the facade of the courtyard wing of the building and is covered with a simple cast fence. At the beginning and end of the courtyard balcony is an original stone arched staircase.
The yard space of this house with the neighboring yard of house number 6 forms an atrium space.
The roof of the street part of the house is on two pitches, covered with biber tiles, and the courtyard wing has a roof on one pitch.
The realisation of this site was supported by the Administration for Culture of the City of Novi Sad

The sources and materials of the Institute for the Protection of Cultural Monuments of the City of Novi Sad were used for the realization of this website
The Old Core of Novi Sad was declared a cultural asset, by the decision on establishing it as a spatial cultural-historical unit – 05 no. 633-151/2008 of January 17, 2008, "Sl. gazette of the Republic of Serbia" no. 07/2008.