ABOUT THE ZMAJ JOVINA STREET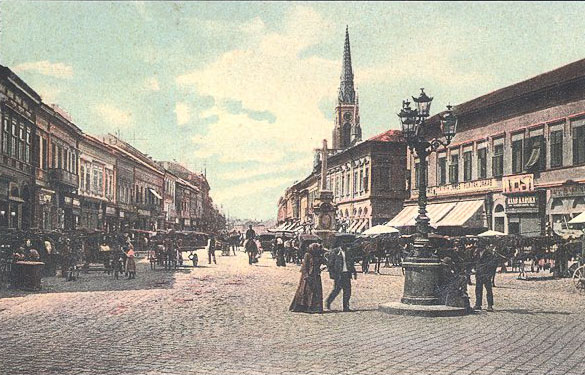 Zmaj Jovina is the Novi Sad's high street, since the earliest days of our city. It was the street of merchants and craftsmen, with shops in every house. Also, there used to be a market along this street from the square Trg Slobode all the way to the bishops palace, Vladičin dvor. The merchants and craftsmen had gained the free imperial city status from the empress in 1748, and it was named Neoplanta. Zmaj Jovina street was called the High street for a long time, but in three different languages – Serbian, German, and Hungarian.
THE STREET NAME CHANGES THROUGH TIME
During the Habsburg Monarchy rule was used the German name for High street – Hauptgasse, until after 1848. revolt when it was called Magazinski Sokak. After the Austro-Hungarian Compromise in 1867, it was to Hungarian name for High street – Fö utca, and later it was renamed to Lajoš Košut street. During the period between two world wars, it was once again renamed to Kralja Petra I street, and the Zlatne grede street was named Zmaj Jovina street because his home used to be there. During the occupation in WWII, it was renamed to Mussolini street. After liberation, it was shortly back to Kralja Petra I street, then renamed to Maršal Tito street, and then finally to Zmaj Jovina.
Realizaciju sajta pomogala je Gradska uprava za kulturu Novog Sada