A representative one-story building of the Adamović family, built in the style of classicism, with a base in the shape of the Cyrillic letter "П", most likely built in the first half of the 19th century. It probably did not suffer significantly in Buna because the roof of the old magistrate's building, which was a different house from this one, did not burn.
On the recordings from 1935 made by Danilo Kaćanski, it was recorded that in one room of this building marked as "archive" the archive of the Serbian National Theater was located.
In the middle of the street facade is a shallow rhizalite with a vehicular entrance carved into the stone, the upper edge of which is cut in the shape of a segment of an ellipse. Above the carriage entrance is a balcony built with stone slabs and with a wrought iron fence in a rich vegetal ornament, with fields in circles and tendril motifs. It rests on five stone consoles.
To the right and to the left of the entrance, there is a bar with modified openings, which were once narrower and secured with protective shutters. On the first floor, there is a row of six windows in a shallow plaster frame with finials and a balcony door in the middle of the risalite.
The openings on the upper floor are flanked by pilasters with floral capitals, and one more pilaster is located at each end of the building.
The wall fabric of the ground floor is horizontally grouted, while on the first floor it is plastered flat.
The courtyard facades are covered by a communicating balcony with stone consoles of baroque profile between which are shallow segments of an ellipse, with a simple wrought iron fence.
The staircase is two-legged and has pink stone treads.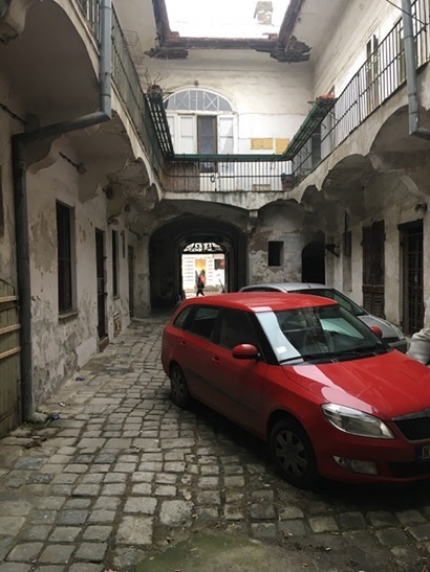 On Sauter's plan from 1889, then plot number 638 was marked, which included this building and the building at Theater Square 3.
In the photo taken around 1900, we can see that the facade is almost unchanged to this day.
An aerial photograph taken in 1926 shows Trg Slobode, and we can see this building rounded, which together with the courtyard wings of the building on Theater Square 3 forms an atrium courtyard.
In a photo taken in the 1970s, we see this building in a row, surrounded.
The realisation of this site was supported by the Administration for Culture of the City of Novi Sad

The sources and materials of the Institute for the Protection of Cultural Monuments of the City of Novi Sad were used for the realization of this website
The Old Core of Novi Sad was declared a cultural asset, by the decision on establishing it as a spatial cultural-historical unit – 05 no. 633-151/2008 of January 17, 2008, "Sl. gazette of the Republic of Serbia" no. 07/2008.