A one-story house, the former "Greek School", with a base in the shape of the Cyrillic letter "P". The school was founded by Greeks and Cincars from Novi Sad in 1783 when they bought Savić's house in Grčkoškolska street and "remodeled" it for the needs of the school. A stone tablet has been preserved on the house, on which it is written in Greek that the school was rebuilt in 1821 with contributions from the citizens.
During the Revolt of 1848, Serbs from Novi Sad held a meeting in this house where they decided to start an uprising.
During the bombardment in June 1849, the house was significantly damaged, and it was rebuilt in 1853 in the Great Renovation, according to the plan of Franz Schlaub.
The Greek school worked until 1863, when it was closed due to a small number of students, and in 1873 it was donated to today's Zmaj Jova Gymnasium, i.e. the "Fund of the Serbian Orthodox Great Gymnasium of Novi Sad".
It has been used as a residential building since World War II.
The street facade of the "Greek School" is wide, with 6 vertical architraved openings, and two shallow rhizalite fields at the ends. The decorative elements are neo-baroque, probably from some renovation from the end of the 19th century.
The first-floor windows are surmounted by segmental shell pediments in the field, with balusters on the parapet fields. A richly decorated frieze with ceiling openings and a dense row of consoles on which a prominent profiled cornice rests.
On the city plan from 1745, we have marked in red the building with the widest street front in Grškoškolska Street, which corresponds to the current location and dimensions of the street part of the Greek School building – probably Savić's house bought for the school in 1783.
On Sauter's plan from 1889, plot number 1430 of the Greek School is marked.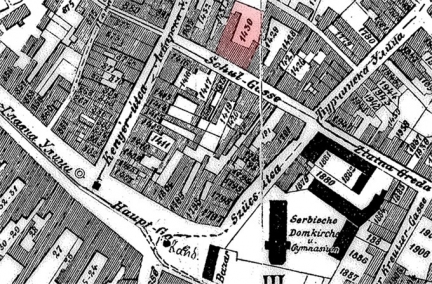 Photo of the courtyard side of the building taken in 1992.
The realisation of this site was supported by the Administration for Culture of the City of Novi Sad

The sources and materials of the Institute for the Protection of Cultural Monuments of the City of Novi Sad were used for the realization of this website
The Old Core of Novi Sad was declared a cultural asset, by the decision on establishing it as a spatial cultural-historical unit – 05 no. 633-151/2008 of January 17, 2008, "Sl. gazette of the Republic of Serbia" no. 07/2008.