The one-story residential building was built at the beginning of the 20th century on a narrow rectangular plot that "climbs" in a series of interconnected plateaus towards the very foot of the Lower Ludwig's Bastion. It consists of a ground floor and a first floor. The roof is low, hidden behind the attic and covered with sheet metal. The base of the building follows the characteristics of the plot and consists of a narrow long corridor on the right side and rooms that line up in the depth of the plot.
Access to the apartments on the first floor is via an external two-legged staircase in the continuation of the corridor and the terrace from which you enter the glazed vestibule. Ca landing further leads to a single flight of stairs to the next terrace with sheds attached to the retaining wall of the next level.
The first-floor part facing the yard was upgraded in the 20s of the XX century and in the back part it was finished with a flat roof – a walkable terrace from which you enter the low attic space. Access to the roof terrace is via external metal stairs. With subsequent interventions, the terrace was covered with an improvised canopy covered with sheet metal.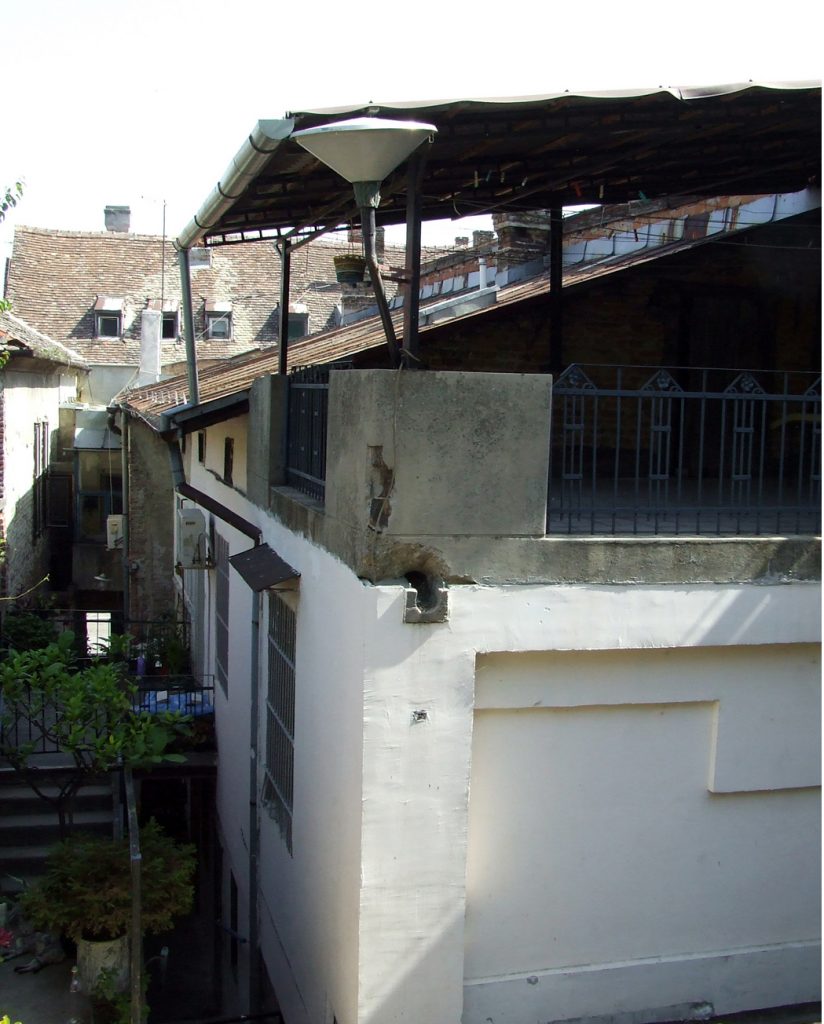 When breaking through the walled door at the back of the building, a stone ball was found in the wall, which the owner kept. On one of the upper plateaus there is an interesting example of a planter made of artificial stone in a wrought iron support. The flat-roofed terrace and exterior staircase feature a wrought-iron balustrade with late Art Nouveau elements. The street facade is simply conceived, vertically divided by shallow beds processed in imitation of stonework into the left part with the entrance and bay window above.
The right part above the entrance has an interestingly shaped bay window with a parapet of a semi-circular base and an upper part of a triangular base with two narrow quadrangular window openings.
The left and right parts of the facade connect the emphasized horizontal lines between the floor and attic cornice.
The realisation of this site was supported by the Administration for Culture of the City of Novi Sad

The sources and materials of the Institute for the Protection of Cultural Monuments of the City of Novi Sad were used for the realization of this website
The Old Core of Novi Sad was declared a cultural asset, by the decision on establishing it as a spatial cultural-historical unit – 05 no. 633-151/2008 of January 17, 2008, "Sl. gazette of the Republic of Serbia" no. 07/2008.