About the author:
Bob Jovan, graphic artist and painter (Novi Sad, February 25, 1950).
Graduated from the art department of the Higher Pedagogical School in Novi Sad in 1972.
Worked in Branko Bajić's screen printing company, as a designer, and then as a pedagogue in an elementary school. Since l978. until l998. employed at IP Matica srpska as a technical editor.
He deals with graphics, graphic design, painting and drawing, and more recently with the Internet as a free medium. He organized several solo exhibitions in Novi Sad (1972, 1975, 1977, 1978, 1981, 1989). Exhibited collectively at several exhibitions in the country and abroad.
He won the Golden Form of UPIDIV in 1977 and the Novi Sad Salon IX award in 1980.
His color serigraphs, close to the ideas of alternative graphics from the eighth decade, attract special attention. He advocates a form of allusive engaged graphics, explores the changed, unconventional function of the graphic sheet and the phenomenon of the press itself." (Text by M. Arsić from the Encyclopedia of Novi Sad, volume 4).
In painting, which he has been engaged in successively and professionally for 30 years, his main subject is city views (architecture as a vertical that breaks the monotony of the plains of this climate), in an expressive, almost classical way of painting.
Since 1997, he has been dealing with the Internet phenomenon and edits the website www.vojvodina.com.
PARK GALLERY:
JOVAN BOB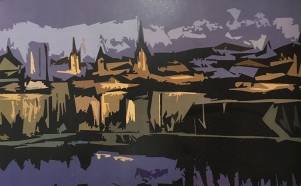 The realisation of this site was supported by the Administration for Culture of the City of Novi Sad