This three-story house, known as "The Finances Palace", was built in 1904, with an L-shaped floor plan, and designed by Lipot Baumhorn in Budapest. This architect also designed the Synagogue in Novi Sad. He introduced some innovative building techniques, never before used in Novi Sad, including using reinforced concrete construction between floors.
It was built in place of a two-story house built in the early 1850s.
In the 1960s and 70s, the Faculty of Philosophy was in this building, and in the 1980s, it was reconstructed for Vojvodjanska Bank. The reconstruction was designed by Djordje Stojsic, and it included the removal of Art Nuove elements in the interior.
The house is at the corner of the main square and Njegoseva street, which was once called Bela Ladja, after a renowned old inn at No. 5. This inn was mentioned for the first time in 1812, using the Latin version of its name "Alba navis".
The Njegoseva street was not on the 1745 city plan, but we can see it on the 1845 city plan (picture below). The street was built at the end of the 17th century.
The first house built on this land lot burned down in the Uprising bombing in 1849. What the Njegoseva street looked like after bombing was witnessed by Sigfrid Kaper in 1850:
"We took a turn from the main city square to a back street, if two lines of ruins and ruble may be called a street…"
In the early 1850s a new two-story house, was built in its place, with an L-shaped floor plan, for the owners Dedinski family, and designed by Josef Divisovski.
The oldest photo of this house was taken in the late 1880s (red circle on the picture below). On the right is this house marked with red on the 1889 Sauter's city plan.
In the photos taken between 1902 and 1903, we can see the facade of this house.
We can see the wing of this house in Njegoseva street, taken in the same period, not long before it was demolished in 1904.
The main street facade of this corner Art Nouve style Palace, built in 1904, is on the main square – Trg Slobode, and the other street facade is in Njegoseva street.
The richly decorated main entrance is next to the left end of the facade.
One of the first photos of this three-story house, take soon after it was finished:
Photo taken in 1912: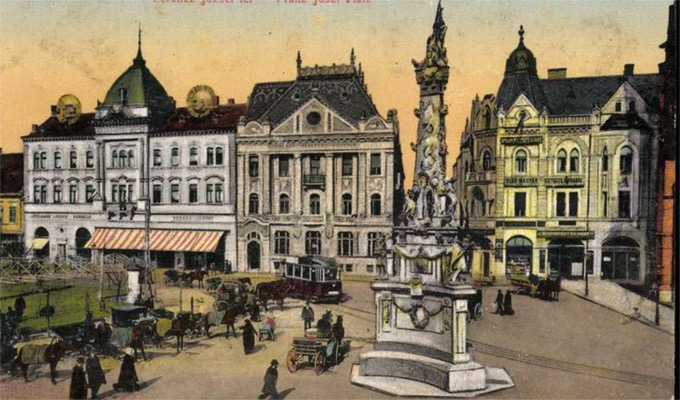 The "Finances Palace" in the ohoto taken in 1984:
The realisation of this site was supported by the Administration for Culture of the City of Novi Sad

Sources and materials of the Institute for Protection of Cultural Monuments of the City of Novi Sad were used for this site
THE NOVI SAD OLD TOWN was declared a cultural property by the decision for determining spatial cultural-historical unit – 05 No 633-151/2008 of 17th January 2008, "Official Gazette of Republic of Serbia" No 07/2008.