This one-story house was built in 1852 and has all the features of the not so common Biedermeier style. It was probably built on the foundations of the older house of the victim in Buna.
The house project was signed by the architect and builder Čik Jožef, and approved by Johan Richter, for the owner Marta Kuzmanović.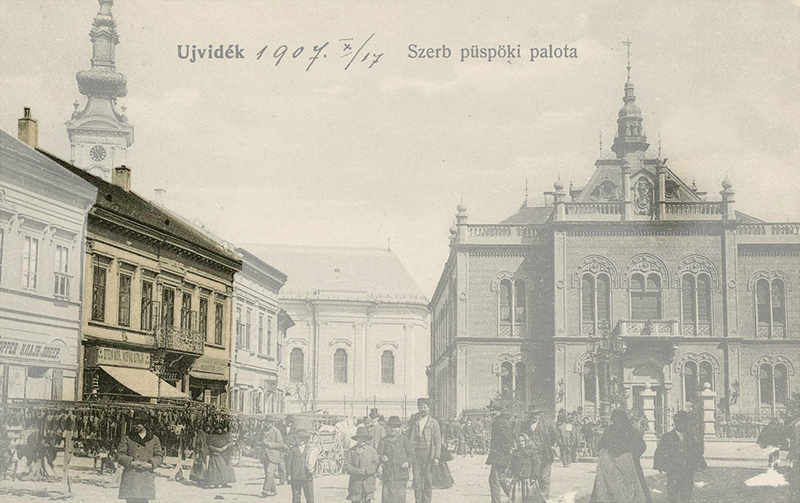 The foundation of this one-story house is in the shape of the Cyrillic letter "П", with two equal courtyard wings, and with a central vehicular entrance. The entrance to the upper floor is located at the beginning of the left courtyard wing, with a double staircase, wooden treads and a landing covered with stone slabs.
The facade on the ground floor has a centrally placed vehicular entrance with a semicircular vault, in the form of a portico with two Ionic columns.
On the left and right there are shops with shop windows.
On the first floor, a shallow balcony is placed centrally, above the carriage passage, supported on Ionic columns and paved with red stone. The fence is made of wrought iron with motifs of plant stylization, a precious craftsmanship in the style of Biedermeier.
The balcony door is located on a narrow ridge at the ends of which are shallow pilasters, with capitals in the form of volute flowers, and above them is a triangular pediment. At both ends of the facade there is another shallow pilaster, with a capital in the form of volute flowers. On each side of the risalite there are three symmetrically placed windows, in a simple shallow plaster frame, surmounted by architrave pediments on slender consoles.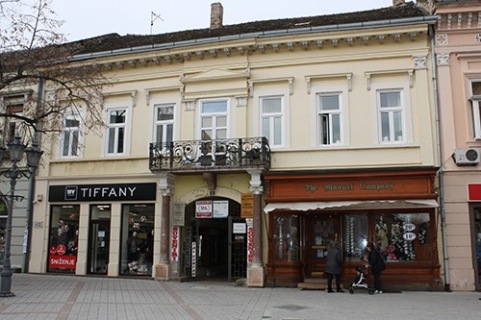 Two alcoves with Doric columns have been preserved in the living space (alcove – wall niche for a bed).
The balcony that connects the upstairs rooms dominates the facade of the courtyard wing of the building, on vaults and profiled brackets and with a simple cast fence, formed by vertical bars with square rings at mid-height. At the end of the courtyard wings, the balconies are connected by a bridge, which ensures good communication.
The realisation of this site was supported by the Administration for Culture of the City of Novi Sad

The sources and materials of the Institute for the Protection of Cultural Monuments of the City of Novi Sad were used for the realization of this website
The Old Core of Novi Sad was declared a cultural asset, by the decision on establishing it as a spatial cultural-historical unit – 05 no. 633-151/2008 of January 17, 2008, "Sl. gazette of the Republic of Serbia" no. 07/2008.