Prote Mihaldžića 14 / Vladimira Nazora 5
At this address, there are two one-story houses with approximately rectangular foundations. Between them is a gate and a courtyard, which over time was turned into a living space by upgrading to the height of the gable. They exit onto Prota Mihaldžića Street with narrow sides with characteristic triangular gables, forming a picturesque detail at the end of the street stretch.
The older house, which is located on the corner of Vladimira Nazor and Prota Mihaldžić streets, dates back to the mid-18th century, as can be seen from the massive vaulted structures in the basement and ground floor.
The facades are simply finished with smaller windows set in axes. The windows are old, with two inner and outer wings. The outer ones are divided into three panes by bars that open into the field. The basement, which extends almost under the entire building, is vaulted with a semi-shaped vault. The house is built of brick, plastered with a prominent partition and attic cornice. The roof construction is on two pitches, covered with pepper tiles with a drain in the axis of the attic cornice, which is sheathed with sheet metal. A stylized chimney has also been preserved.
The entrance and the winding staircase did not change position, it is located in the rear part towards the neighboring house at number 3.
The second house, somewhat smaller in size, can be dated to the end of the 19th or beginning of the 20th century, or a major reconstruction was carried out then.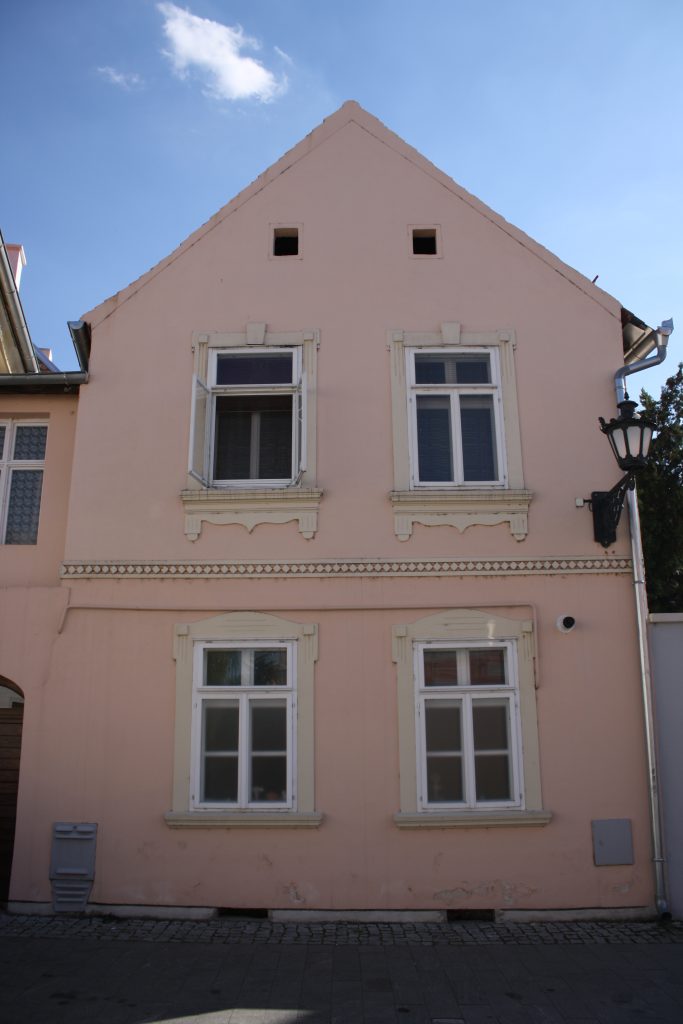 The street facade is also simple, with two windows in each axis. The windows have two sashes and the upper pane is placed horizontally (XIX century). The shallow plaster decoration in the style of simplified art nouveau has been partially preserved. The basement is located under the whole house. The interior has flat ceilings, without vaults. A one-legged staircase was added in the corridor-courtyard between the two buildings. The roof construction is two-pitched and covered with old pepper tiles. There are several newly built utility rooms in the yard.
The realisation of this site was supported by the Administration for Culture of the City of Novi Sad

The sources and materials of the Institute for the Protection of Cultural Monuments of the City of Novi Sad were used for the realization of this website
The Old Core of Novi Sad was declared a cultural asset, by the decision on establishing it as a spatial cultural-historical unit – 05 no. 633-151/2008 of January 17, 2008, "Sl. gazette of the Republic of Serbia" no. 07/2008.